Paradox Skully Barrel No. 57 "Piña Cielo"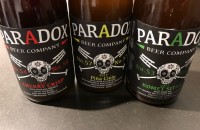 Vital Statistics
From the brewer
Barrel-aged Sour Golden Ale re-fermented on pineapple and cinnamon sticks
Fruit has an afterlife. Fermentation begins the process that refines fruits to their essence, a reflection of one season and one place. This "tepache" inspired wild golden ale began with the open fermenting of whole pineapples in our 300 gallon coolship. Ceylon cinnamon and dark brown sugar were added to further the evolution of flavors and hint at this drinks' origins in Pre-Columbian Mexico. Salud!
Average Scores
Overall:

(logged 1 time)
Bottle:

(logged 1 time)
Who's been drinking this