Iron Horse Cozy Sweater Vanilla Milk Stout
Iron Horse Brewery

Ellensburg, WA, United States of America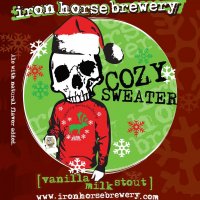 Vital Statistics
From the brewer
Here we've taken a dark and chocolatey beer foundation and added a few
twists. The addition of lactose has the benefit of adding a smooth and round
mouthfeel, plus a touch of sweetness. On top of what could already be considered
a revelation in a bottle, we decided to throw in a hint of vanilla, because who
doesn't appreciate overdoing it? This beer rolls off the line just waiting to
complete your winter day like nothing other than a sweater from your Aunt
Milly could.
Average Scores
Overall:

(logged 1 time)
Can:

(logged 1 time)
Who's been drinking this